Your search about how to use Bumble on PC indicates that you have already good know-how with this app. Right? Well, this is a location-based dating app used by millions of people worldwide. One of the unique features of the app is that the girls can only take the first step toward the contact and can initiate a relationship. Due to this feature, Bumble has a higher successful match ratio than other dating apps.
How many girls have contacted you on Bumble so far? Oh! Let's not go off the topic! The Bumble apps have grabbed almost 66 million users worldwide. That's why you can get perfect matches similar to your interest. Apart from this, unlike other dating apps, the web version of the Bumble app is available for desktop lovers.
In this article, we will guide you on how to use Bumble on a PC without any smartphone app. After reading the article thoroughly, you will be able to use the Bumble desktop app both on Bumble PC and Bumble for Mac. Let's get started…
Part 1: How to Use Bumble on the Desktop Web
The Bumble development team has developed a fully featured web version of the app for desktop lovers. You can enjoy all the features in this version you love on the mobile app.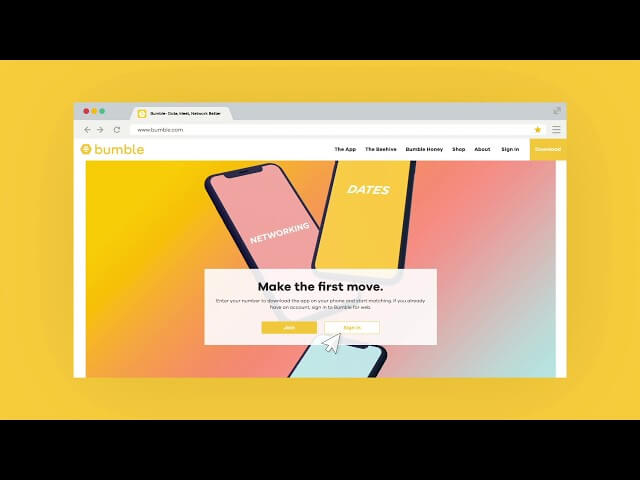 All major web browsers including Chrome, Safari, Firefox, Edge, and Opera support its web version. Therefore, you can run it on all web browsers smoothly. Follow the steps below to run it on the desktop without any smartphone:
Open your favorite web browser and visit the official website of Bumble.
If you have already an account on Bumble, you can simply sign in there. However, if you don't have an account on this platform. Click on the yellow Join button to get started.
You can use your Apple ID, phone number, or Facebook account to create an account on Bumble. Enter any preferred data for signing up. Let's create an account using a Facebook account.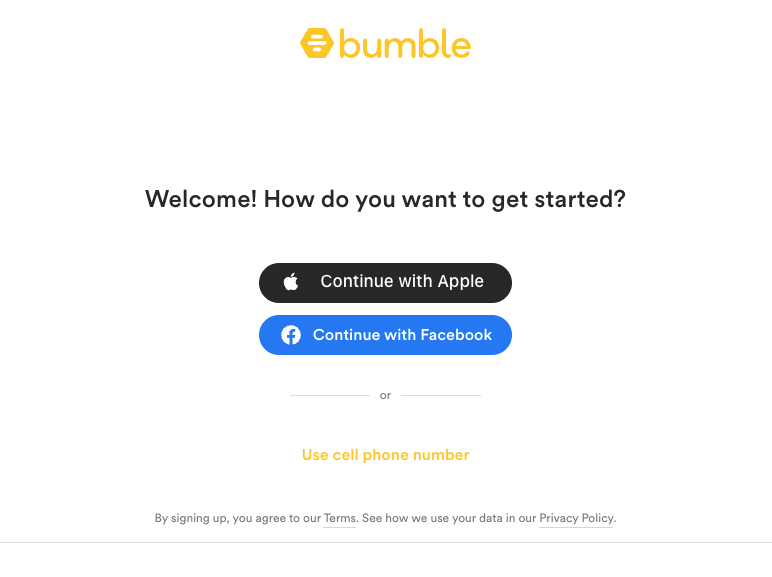 Grant Facebook account access permission to Bumble to proceed further. If you are not okay using your Facebook account, you can enter your phone number and click on Continue. In this case, you will have to verify your account by phone call or text message.
After the creation of an account, sign in to your account. You will see two options on the screen. First, you can select BumbleDate for romantic relationships. The second option is BumbleBFF for friendship. Remember, you can change these options later on.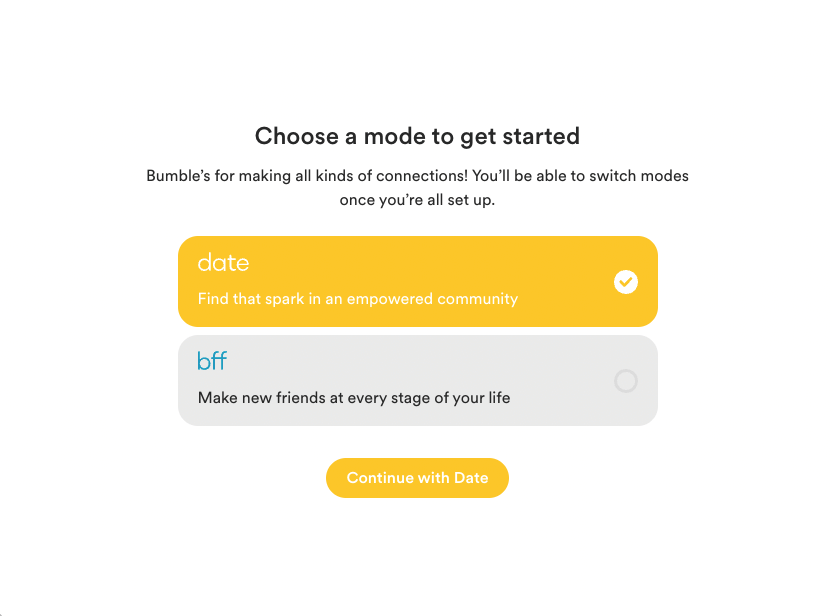 Next, tell Bumble about your interest by selecting either of the three options i.e. Men, Women, or Everyone.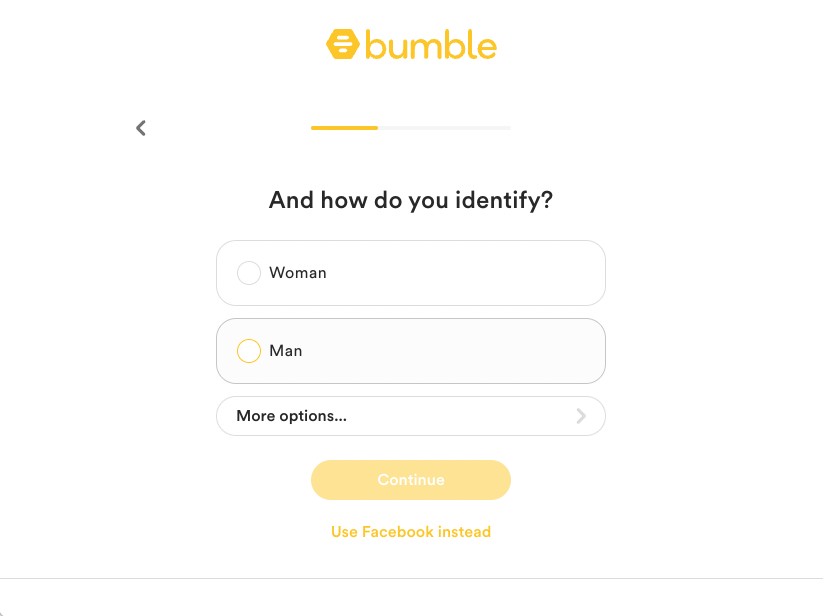 Once you click on any option, you will see a list of users' full profiles. Scroll down to view more profiles and information.
Click on the X button to skip a profile or click on the checkmark to like the person.
Once you like a user and he/ she likes you back, matches will be made. You can see these matches in the left column. Once you start a conversation with any other user, the Conversation tab will also appear there.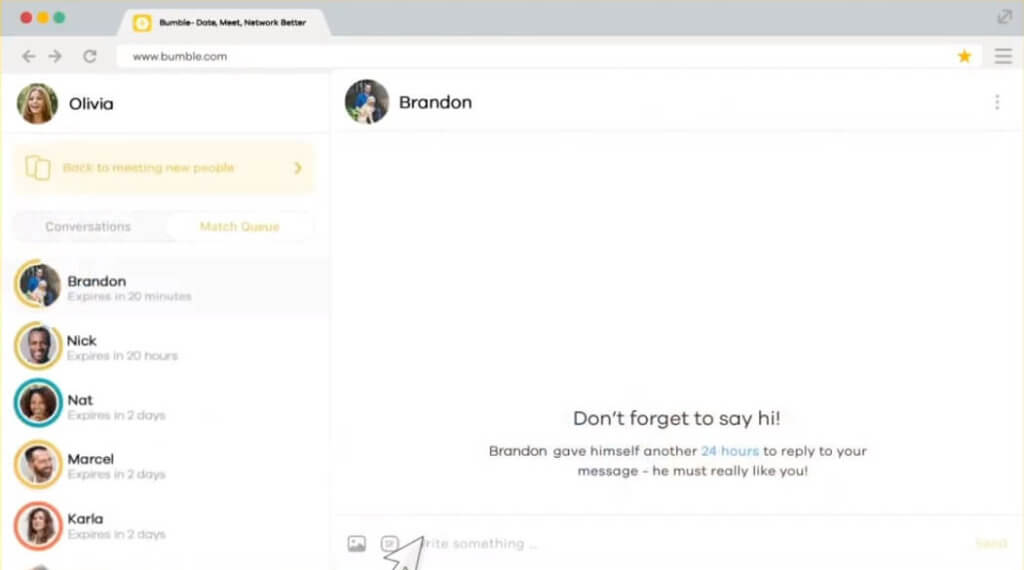 On the upper-left corner, click on your profile icon to complete your settings. Here you can edit your account information as well.
The web version of the Bumble app offers almost all the features you find in the mobile app. So you can use it without any worry to find the best matches according to your interest. Remember only women can start conversations here. Plus, if you don't start a conversation within 24 hours, matches will be canceled. However, you can manually extend the matches' expiration time to 48 hours.
Part 2: How to Install Bumble Mobile App on PC/ MAC
In the previous section, we learned how to use the web version of the Bumble app. It is an alternative method that helps you to run Bumble mobile app on your PC. How?
Follow the instructions below to set up Bumble mobile app on your PC/ Mac:
Step 1: Install Bluestacks Emulator
The first and foremost method is to install your favorite emulator on the PC where you want to run this dating app. Because the emulator actually runs a mobile application like Bumble on the PC. You can't run any APK file on the PC without an emulator.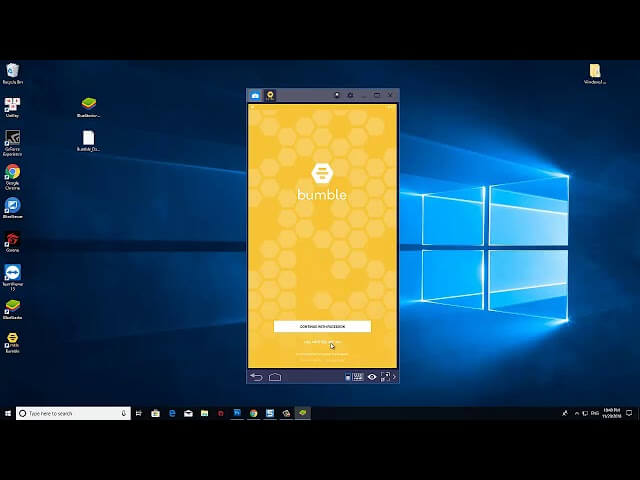 Visit the official website of Bluestacks to download it. Double click on the exe file to start the installation process. The installation process will take a few minutes to complete.
Step 2: Download Bumble APK
You can download Bumble APK on your PC or directly into the emulator. To download it on your PC, open any browser and visit the official site of Bumble to download it.
If you want to download it directly into the emulator, open the Play Store, and complete the login process. Then, search for Bumble in the search bar and start downloading the app.
Step 3: Install APK File
You won't need to do anything if you have downloaded it within the emulator. Because it will install automatically when downloading from the Play Store. However, if you have downloaded the APK file on the PC, drag and drop the file in the Bluestacks Player to install it.
Step 4: Launch the Bumble App
After proper setup, launch the app to start matches. The login or sign-up process is the same as we have already discussed in the previous section.
Note: The Bumble app is banned in various countries like Pakistan. So you can't access this site from such countries. How to access the site from such countries or regions?
Plus, the app is a location-based app that finds matches for you based on your current location. Sometimes, you find a few matches just because you live in an area with a few Bumble users. What will you do in this situation?
Read the section below to get the answers to your both questions…
Use Location Spoofer App For More Bumble Matches
If the Bumble app is banned in your country, you can access it by changing your bumble location to another country where it's accessible. For example, you can change your location to the USA to access the site.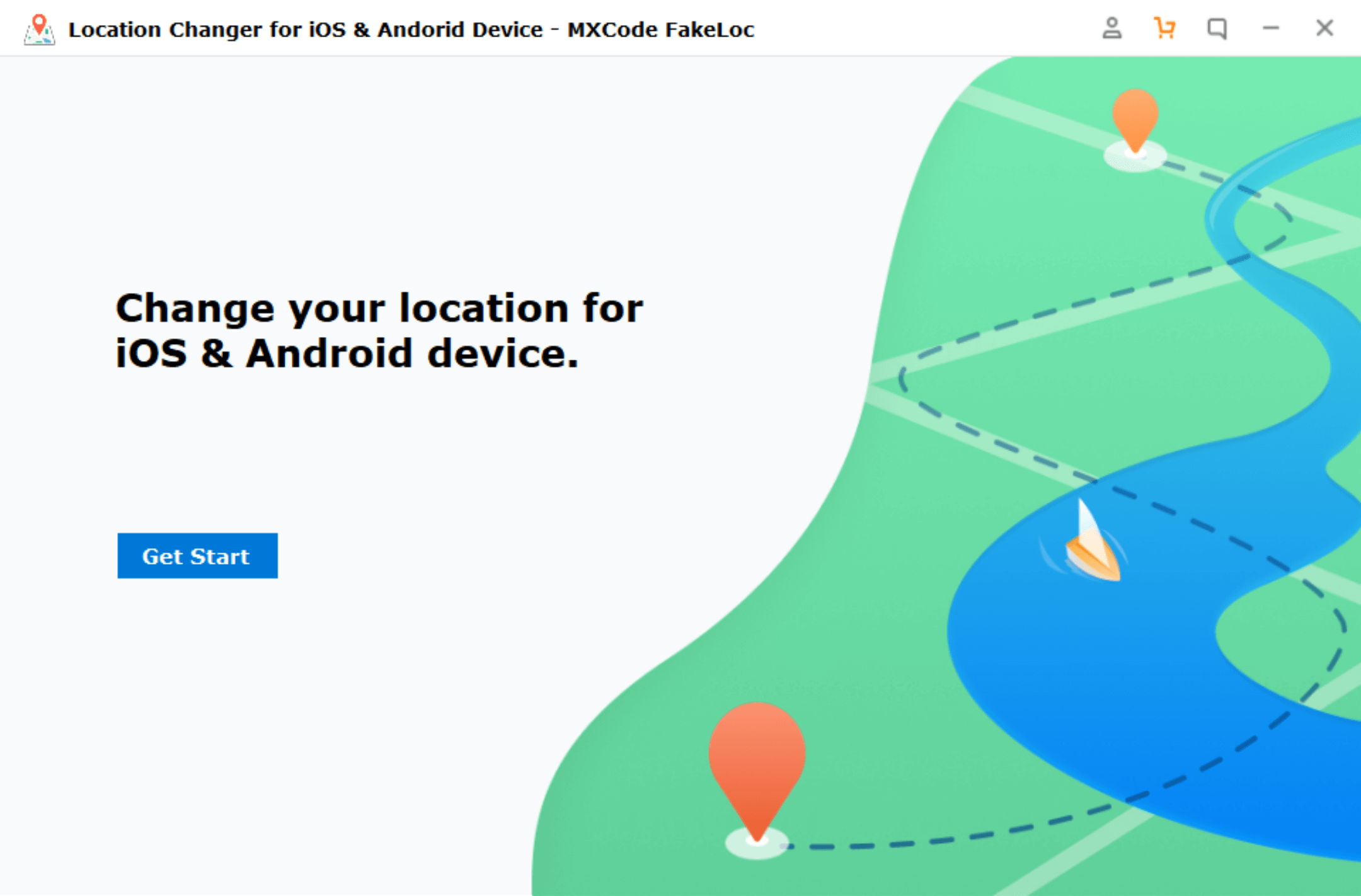 Similarly, for getting more matches, you need a tool that helps you to set your location whenever and wherever you want. For example, if you live in New York and want to get matches from Washington Dc, you should be able to change your direction virtually instead of moving there in person.
Are you looking for a foolproof solution to these problems? If so, you can go with the FakeLoc location changer app. You can use this app to access the Bumble site even in an area where it has been banned. Plus, it allows you to spoof your location and set it to anywhere in the world.
Follow the instructions below to use the FakeLoc location changer:
Visit the official site of FakeLoc i.e. mxcode.com.
Download the app and install it on your system.
Once the installation process is completed, you will see a map on the screen marking your current location.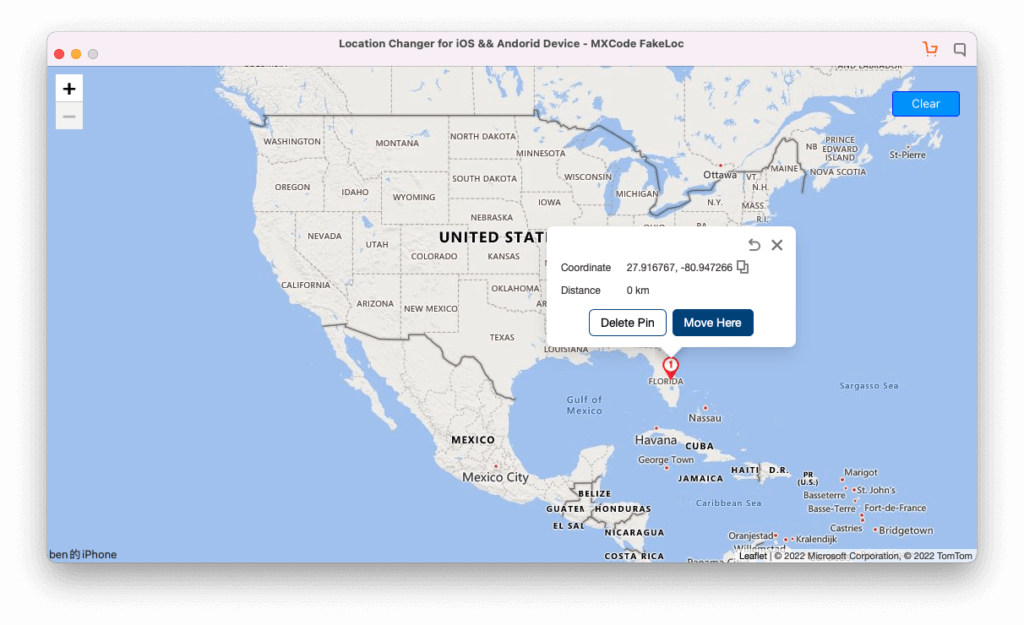 In the search bar, enter any place that you want to set as your new location. Plus, you can enter coordinates to find the precise location. Similarly, you can drag and drop location markers to choose a specific place on the map.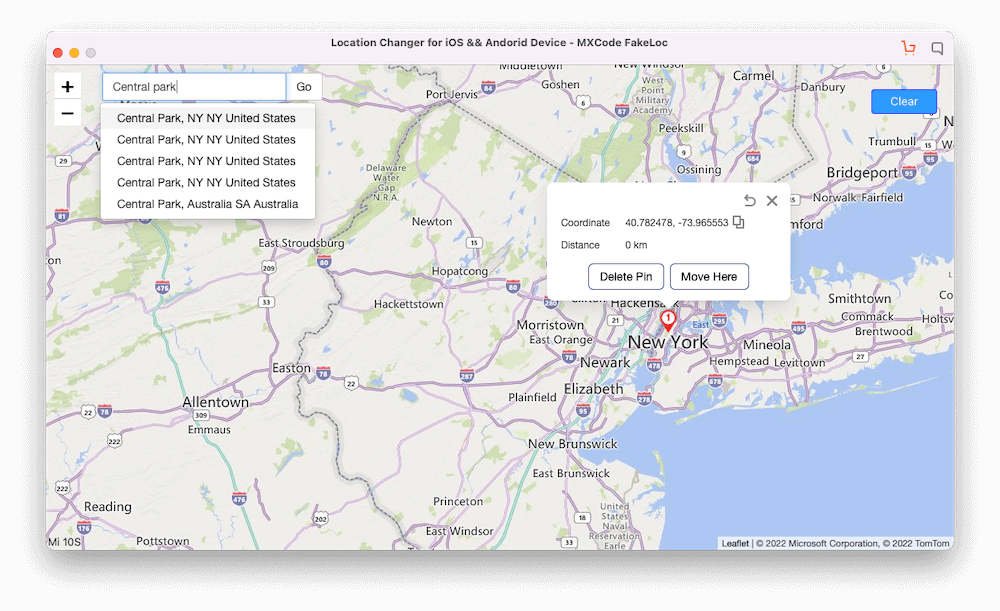 After changing the location, your current location will be changed. After location changes, all location-based apps including Bumble will believe that you are in that particular location.
Change your location using FakeLoc to find more matches.
We recommend you use a location spoofing app along with dating apps. Because it will help you to make the relationship all around the world.
Plus, you can access geographically restricted data by any company or government using this app. It helps you to play video games, watch movies, and other restricted content.
Wrapping Up
We have discussed two different methods to use Bumble on PC/ Mac. Though Desktop Bumble is a brilliant tool, users still prefer the Bumble app. They prefer mobile apps due to more features, ease of use, user-friendly interface, 24/7 access to the app, etc.
Users can still explore a lot of exciting features on the Bumble app for PC. You can view the complete details of profiles, find perfect matches, and chat with them. In simple words, you will find all the necessary features in the desktop version. Install it on your PC by following the aforementioned methods and enjoy!
Bumble finds matches based on your current location. For finding more matches, you need a tool that gives you full control of your location data. For this purpose, you can use the FakeLoc app to spoof your location. Using this tool, you can set your location to anywhere in the world and enjoy more matches.