Resizing an image is the most common problem faced by a lot of people. For example, if you are running a FB page, you need to upload images with a specific dimension. Otherwise, your images may appear blurry, stretched, or distorted. As a result, your page might not get the right reach that it should get. The same is true for other social media platforms like Instagram, LinkedIn, etc.
This is one of many problems I have exemplified. Resizing an image isn't as easy today as it was never before. Plenty of image resizers apps are available on the internet that helps you to convert an image into your desired dimension with one click.
In this guide, we are going to introduce you to the best image resizer app that provides the solution to all image resizing problems. We will also cover its features, pros, and cons in detail. Let's get started…
Part 1: Resize Image on iPhone Without App
Most iPhone photo apps don't offer any image resizing abilities. As a result, people face serious problems when they need to resize their images urgently.
However, the good news for you is that you can still resize your photographs without any third-party app on your iPhone. How? Follow the tips below to rescale your pictures:
1. Resize Photo via Mailing
Mail sending feature helps you to change the resolution of your photographs on iPhone and iPad. Follow the steps below to alter the resolution of your images:
Open your photo app and select all images you want to resize.
Tap on the share option and go with the mail option. Enter your own email address so that you can receive resized images.
Once you hit the send button, you will see the resize options on the display screen. You will be prompted to choose any option among Actual, Small, Medium, or Large. Choose any options except Actual to resize your image.
Limitations: This method has some downsides. For example, you can only resize 5 photos at a time. Plus, you will lose original photos in this process. It badly impacts the quality of the photos.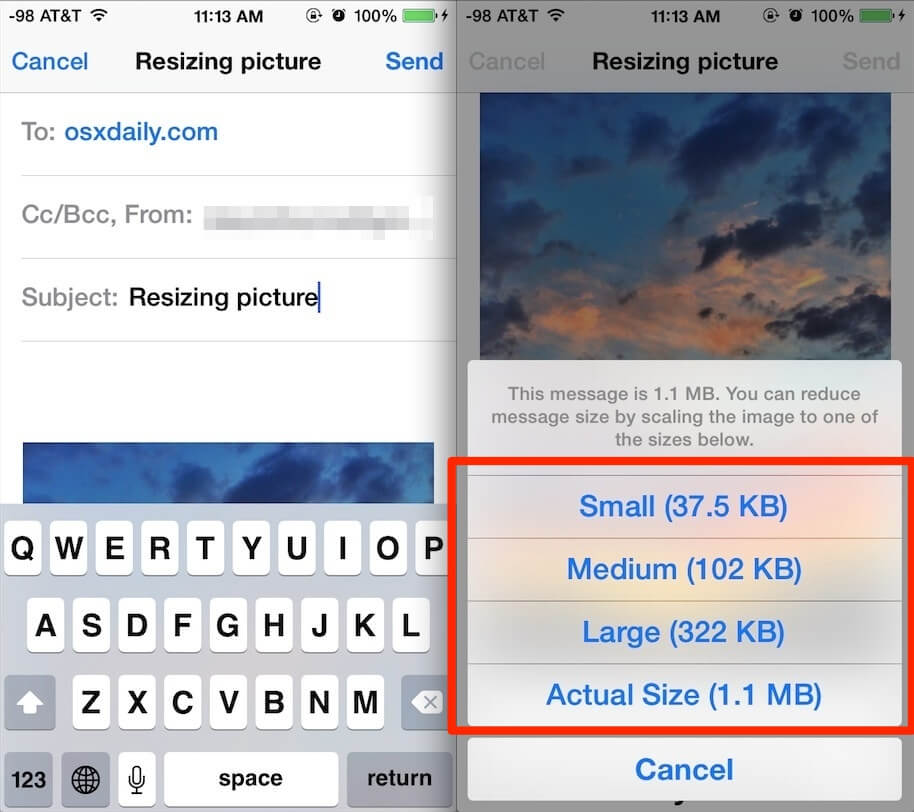 2. Resize Photos By Sharing on iCloud
This method helps you to resize the entire photo library in no time. Below are some easy steps to alter images' size:
Take your iPhone and open Settings.
Tap on the Photos & Camera option.
Then, switch it to iCloud Photo Library.
Check Optimize iPhone Storage to finalize the process.
Limitations: You can store only 5 GB of data on iCloud storage. For more data, this method won't work. Most iPhone users have already filled their iCloud storage with their important files. In such a case, this method might not work for you.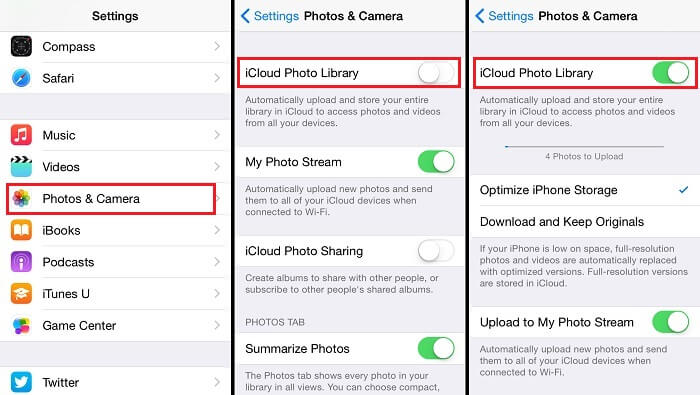 Part 2: Resize Image Using the Best Image Resizer
Though the aforementioned methods work perfectly, they offer limited functionalities. To overcome such problems, many third-party image resizers have been developed. These applications are loaded with tons of features that help you to resize your images without significantly affecting their quality.
Finding the best of the best app is quite a daunting task. We have brought a spectacular image resizer for your ease that resolves all your problems related to image resizing.
Image Resizer (App Icon, Image Asset Creator) By MXCode
Image Resizer is an outstanding effort by MXCode. The application has all the necessary features you need to resize single images or images in bulk. It helps you to resize images of almost all types like JPG, PNG, BMP, TIFF, etc. You can create 3 sets of photos of different dimensions with one click easily. For example, you can create images of different dimensions i.e. 10 x 10, 20 x 20, and 30 x 30.
Instead of resizing all images one by one, it supports batch resizing. Move all photos that you want to resize in the same directory. Select the folder and add the target size, it will convert all pictures in that directory to your specified dimension.
Image Resizer is extremely useful for app icon designers. Because you can create 20+ files of different sizes with one click. In simple words, you can resize your app icon to all needed sizes efficiently. Above all, this versatile app can handle multiple requirements of various sizes at one time.
Device Requirements for Image Resizer
So far, this app is only available for MAC users, running macOS 10.11 or later on their devices. The size of the app is around 8.8 MB so you need almost 25 MB of free space for the installation of this incredible tool.
Note: The premium version of the app is available at $2.99. However, you can also use its free version with some limited features.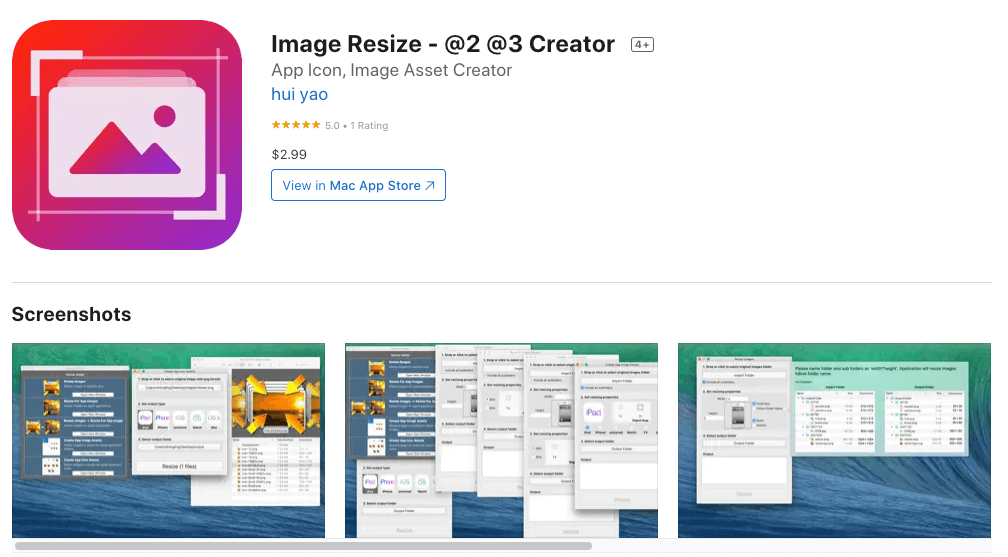 Main Features of Image Resizer
Below are some important features of this incredible app:
Developer Assistant: This feature helps developers to resize app images depending on their needs. They can create 3 sets of photographs of different dimensions with one click.
Batch Resize: You can resize multiple images in one go with this feature. You need to select the image-containing directory and choose the target dimension for your photos. Then, select the output directory for resized photos.
Icon Asset: iOS icon developers need to create 20+ files of different sizes for an icon. This incredible tool helps you to generate your needed images in one click. Using this feature, you can generate images for iPhone, iPad, Mac, Apple TV, Apple Watch, etc.
Multi Directory: The app can handle several requirements of different sizes at one moment. You will need to rename each folder for new requirements. For example, if you have multiple folders that you want to resize, you can perform resizing operations concurrently.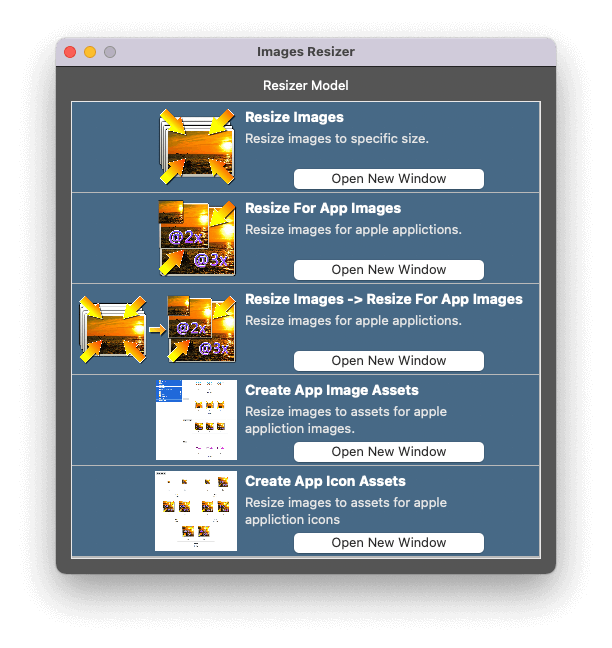 How to Get Started With Image Resizer?
You can resize your images within three steps i.e. select files or folder, enter the output type, and select output folder. Follow the steps below to resize your images:
Step 1: Download and Install the App
First and foremost, visit the official site at mxcode.com and click on Image Resizer under the product menu. Click on the Free Download button. You will be redirected to the Apple App Store where you can download this tool. The size of the app is 8.8 MB so it won't take more than 2 minutes for installation.
Download from App Store: Image Resize – @2 @3 Creator
Step 2: Run the App
After installing the app, launch the app. You will see an intuitive layout with multiple image resizing options such as Resize Images, Resize for App Images, and Create App Icon Assets.
Step 3: Convert Images
You can hit any desired option for resizing your images. For example, if you want to resize your images. Tap on the "Open New Window" button under Resize Images to open Resizing wizard. Follow the steps below to resize your image:
Drag and drop the image you want to resize in the top most text field.
Select output type.
Select the output folder where you want to get the processed image.
Hit the resize button.
You will get your desired images in the output folder.
You can perform similar operations for creating app image assets for Apple applications.
Click on the Open New Window under Create App Images Assets.
In the new window, select the images folder you want to resize. If that folder contains more folders, check "include all subfolders".
Then set resizing properties like iPad, iPhones, TV, etc. For example, if you are resizing images for the iPad, choose the iPad option.
After that, select the output folder.
Then, hit Resize button to start processing your images.
Similarly, if you want to convert multiple directories at the same time, you should name your folders and subfolders as "width*height". For example, name your input and output folders as 30*30 or 90*90 to convert multi-directories.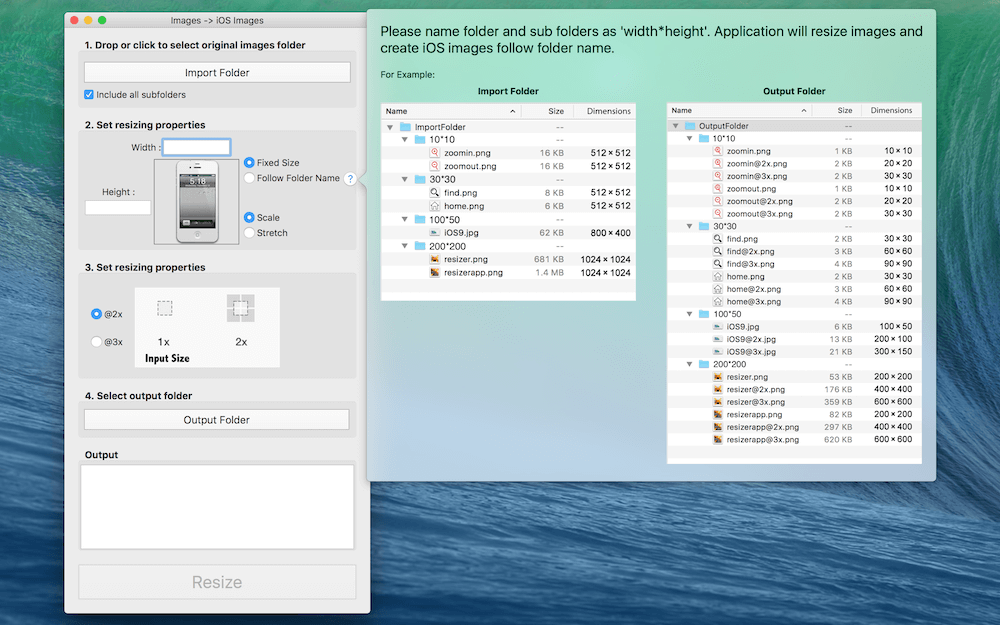 Pros and Cons of Image Resizer (App Icon, Image Asset Creator)
Here are some pros and cons of this incredible app:
Pros
You can resize almost all types of images like PNG, JPG, TIFF, etc.
It supports batch resizing so you can resize multiple images in one go.
Creates 20+ files with different dimensions for icons.
Customer support is awesome.
Its user-friendly interface makes it extremely easy to use.
This is the cheapest image resizing app on the internet.
Cons
The application isn't available for Windows or Android users.
You might face some difficulties when setting resizing properties the first time.
Wrapping Up
You need to resize your images for different purposes. That's why you should have a fully-functional app on your phone that helps you in this regard. If you are looking for a spectacular image resizer, MXCode Image Resizer is the finest option for you.
MXCode Image Resizer is a budget-friendly tool for resizing photos on iPhone for all types of Apple devices like iPhone, iPad, Watch, etc. It is a versatile app that helps you to create images and icon assets. We highly recommend you give it a try because this app has thousands of happy customers all over the world. Above all, its 4.9-star ratings show its quality. Go with it for the best user experience!