QR codes are important parts of different marketing and advertising campaigns. Data such as company name, product name, model, and price are encoded in the form of QR code with the help of QR Creator. You can read this information using QR Reader. This technology has become stable for contactless deliveries, payments, and pickups.
Due to this reason, almost all the latest smartphones come with built-in QR codes or barcode readers. You can use your cellphone's camera to scan code to retrieve coded information about a product or a company. Unfortunately, built-in apps are not that powerful enough to meet your needs. For example, some apps can't decode all types of QR codes.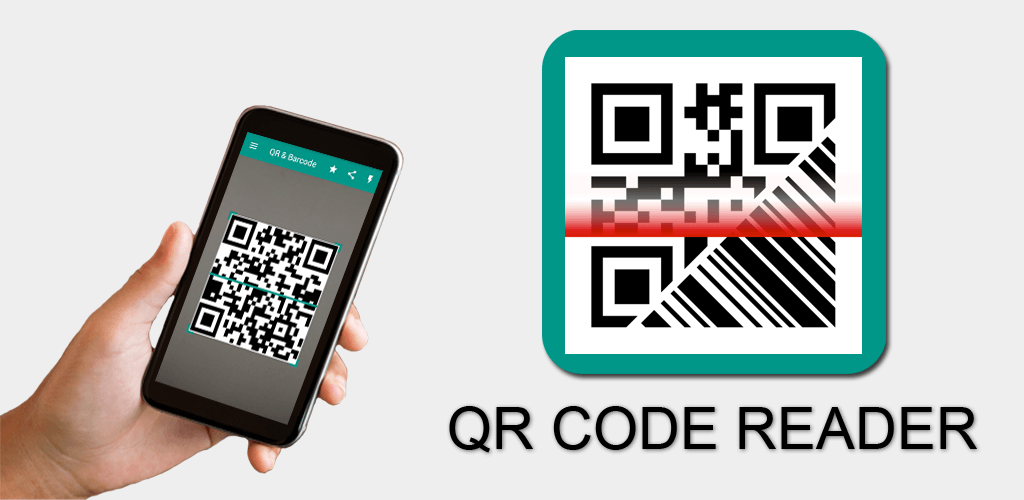 That's why you need to install a robust app that performs efficiently. There are plenty of different third-party apps available on the internet that not only helps you to read but also create QR or barcode for you.
In this guide, we are going to introduce you to the best QRCode Reader Creator that helps you to scan both QR codes and barcodes proficiently. Further, we will cover some of its features, pros, and cons. Let's get started…
Why You Need QRCode Reader Creator?
As we have mentioned that QR code has become a crucial marketing tool. You will miss many great business opportunities if you ignore this technology. Because you can create Vcard (business card), social media QR codes, Wi-Fi QR codes, PDF QR codes, email QR codes, location QR codes, SMS QR codes, web QR codes, and more for your business using this software.
Today you will find QR codes printed on almost all products. Similarly, you need to scan a code to download an app or access any service on the internet. That's why you must download it to decode any barcode when necessary.
QR Code Reader Creator – The Best Barcode Reader and Creator
If you are looking for the best QR or barcode reader, QRCode Reader Creator, developed by MXCode, is the finest option for you. It supports more than 20 types of barcodes and QR codes. For instance, it can scan DataMatrix, Code128, Code 39, PDF417, EAN-8, EAN-13, etc. After installing this all-in-one tool, you won't need any other tool.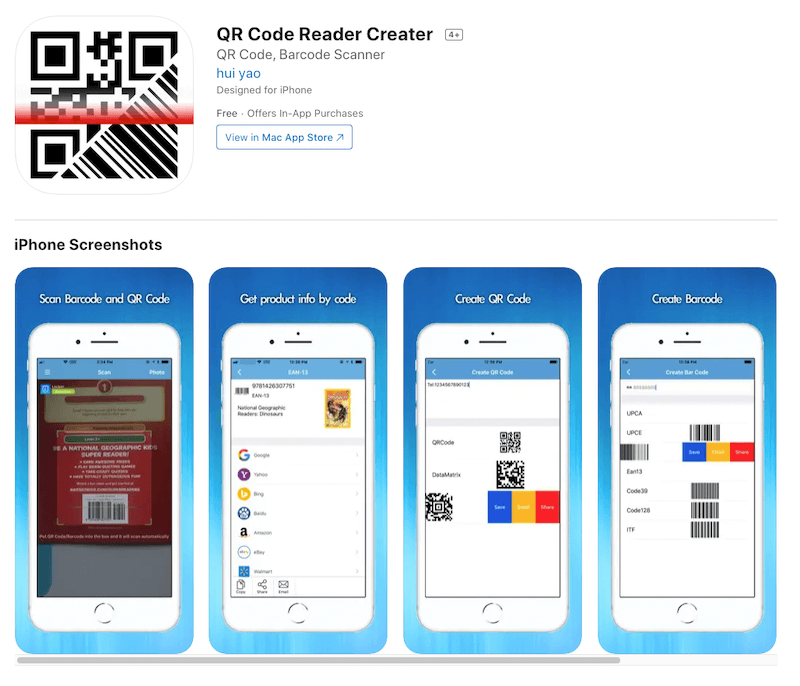 Its robust retrieval function helps you to find any type of product via barcode. For example, if you want to grab the information about a specific product like manufacturing country, company name, and model number, take your smartphone and scan the barcode. You will get your required information in no time.
This incredible tool not only helps you to read but also create barcodes as well. You can convert any string or number into a barcode using this software.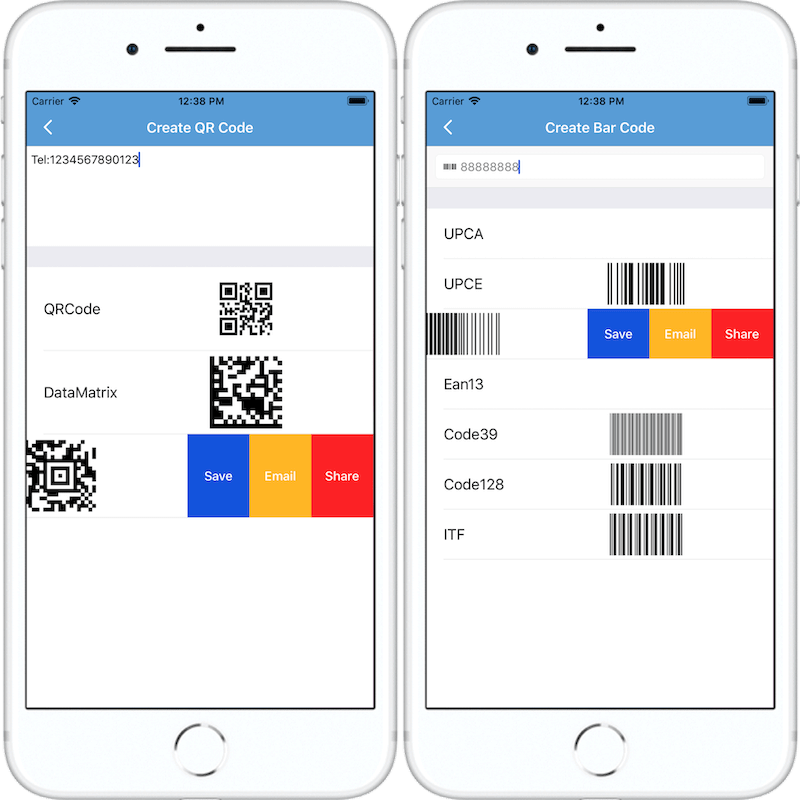 QR Code Reader and Creator maintains the complete record of scanned barcodes. You don't need to scan a product whenever any specific information is needed.
Device Requirements to Use this App
First and foremost, the app is available only for iPhone or MAC users. Devices that are running macOS 11.0 or later can use this incredible app. Similarly, this software is available for those with iPhone or iPod touch running iOS 11.2 or later.
Remarkable Features of Barcode Scanner
Most barcode readers offer only scanning features with limited formats. You have to scratch your head to find an appropriate reader to decode your needed format. Similarly, you start your research again in order to find the best QR code creator for creating QR codes for URLs, etc.
If you are looking for a permanent solution, you should go with QRCode Reader Creator. It has all the necessary features that you need to deal with QR codes. Below are some popular features of QRCode Reader Creator:
Multiple Formats: This stunning app supports multiple formats to read and create barcodes. Some of these formats include QR code, barcode, PDF417, Code39, Code 128, etc.
Product Query: It comes with a robust retrieval function that helps you to find any product through a barcode. Scan barcode, it will grab all information related to the product.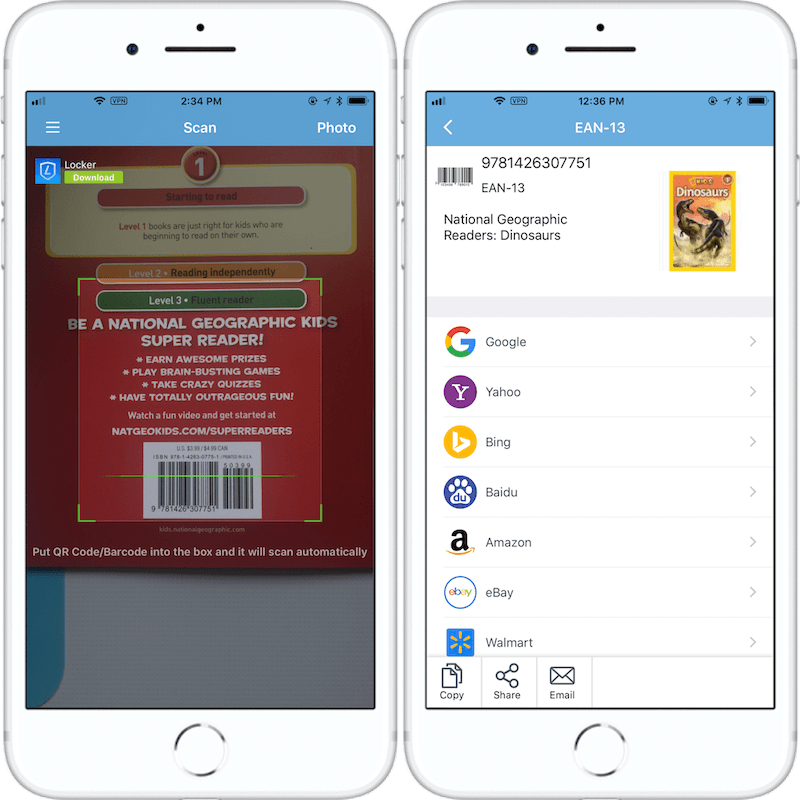 Barcode Create: This app doesn't only help you to scan the code but also helps you to create the code by entering any string or number. You can create a special QR code to open URLs, read Vcards, connect to Wi-Fi hotspots, etc.
History Record: It maintains the history of all scanned barcodes. In this way, you can read the decoded information from your history without scanning the product every time.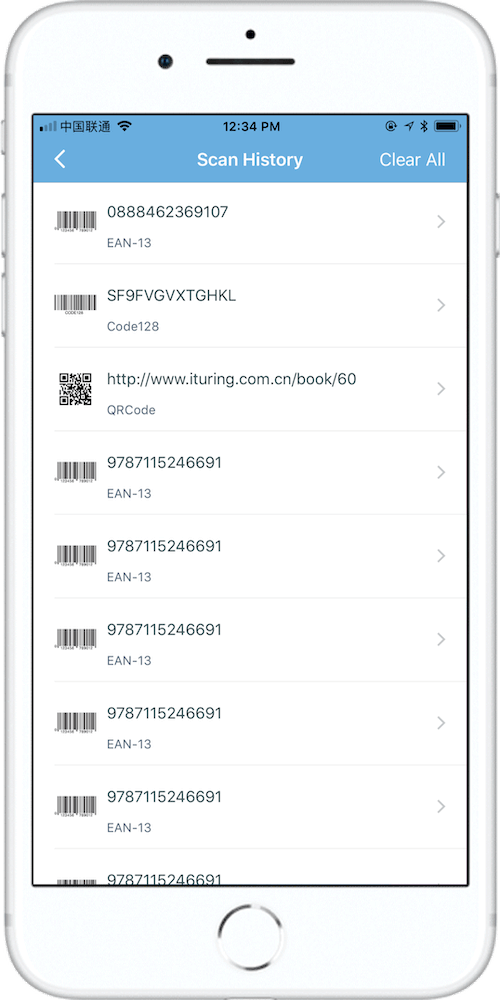 How to Get Started With QRCode Reader Creator?
The app provides the highest level of services to individuals as well as corporations. You don't need any technical skills to use this software. Follow the steps below to get started:
First and foremost, you need to download the app. For this purpose, visit the official site and click on the Free Download Button. You can directly download it from Apple App Store by searching QR Code Reader Creator.
Install the app on your device and run it.
You will see a simple layout with a code scanning area.
Place any QR code to retrieve its information.
For generating a barcode, tap on the drawer icon in the top right corner.
Tap on the Create Barcode option.
Enter any string or number in the text field, it will convert that input into different types of barcode.
If you want to check the history of an already scanned barcode, tap on the drawer icon. Then, click on the History option. You will find all previously scanned results.
Remember the app is available free of cost. You can read and create unlimited barcodes to boost your business. More than 10K people are using this app worldwide. The overall rating of the app is 4.3 which clearly indicates its quality.
Pros and Cons of QR Code
Like other tools, QR Code codes have some upsides and downsides as well. Let's have a look at the pros and cons of this incredible software…
Pros
It supports more than 20 different QR code formats that can be read or created with this incredible tool.
Information about any product can be found easily by scanning barcodes.
This tool maintains history for your ease so you can get information on already scanned products without scanning them again and again.
You can copy the scanned information with one click.
It allows you to create QR codes for all types of applications.
This app helps you to create barcodes in any of your desired types by just entering numbers or strings.
You can save or share generated code via email.
Its eye-catching user interface is very easy to use.
The app is free to use.
Cons
QR Code Reader and Creator are not available for Android users.
Sometimes, the app misbehaves if storage space is running out.
Frequently Asked Questions
Do I need an app for QR code scanning?
You may or may not need an app for QR code scanning. Many older smartphones don't have any built-in scanning feature. In this case, you will need a barcode reader.
However, most modern smartphones come with this feature. In this situation, you don't necessarily need to download a third-party app. Remember no built-in app allows you to generate QR codes. Plus, such apps come with limited features. That's why it's better to install a third-party app like QR Code Reader Creator.
Does my smartphone have a barcode reader?
If you have a smartphone, you can check that for a barcode reader. Take your cellphone and point it at any barcode. If that code directs you to any page or app, your cellphone has a QR code reader.
Simply, if any event is generated when you point it at any barcode, it means you have a QR code scanner on your phone. Otherwise, you will have to download a third-party app.
Why should I download QR Code Reader Creator?
QR Code Reader Creator is a robust QR code scanner that has all the necessary features for barcode reading and creating. Further, it's extremely easy to use the app due to its intuitive user interface. Above all, this all-in-one app is available free of cost.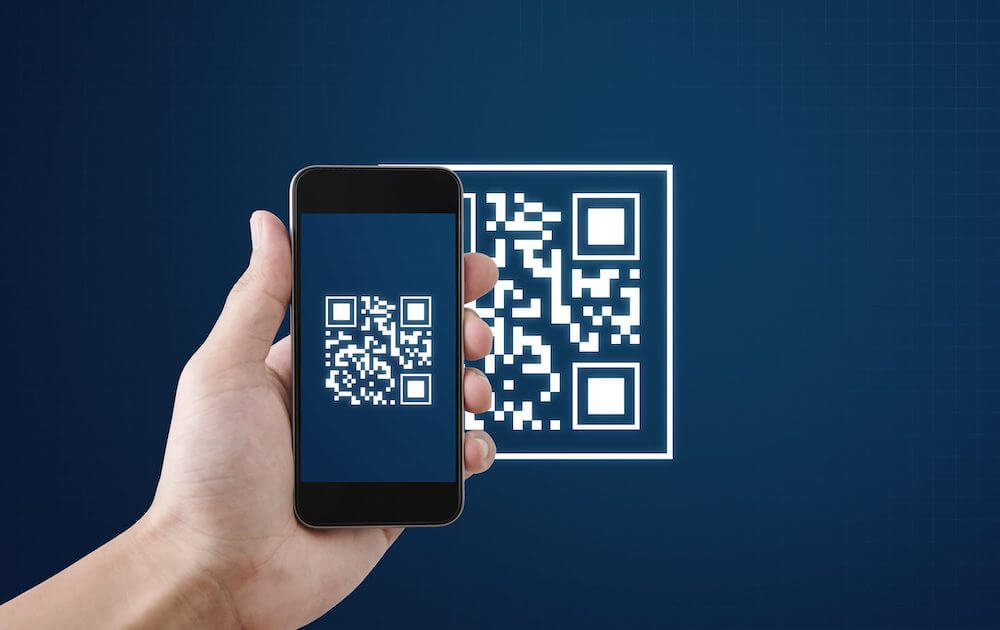 Wrapping Up
QR codes are growing in popularity due to different changes happening in marketing channels. Almost all products come with a barcode printed on them. Snapchat also introduced "snapcodes" so that users may easily share their account information with one other. Similarly, you also need to scan QR codes from your WhatsApp application if you want to log in to your account on WhatsApp Web.
This technology has brought ease for many people. For example, you can easily download an app or access any site by scanning a QR code. This approach is extremely useful for various businesses that promote the advantage of downloading their app at the point of purchase.
Many people are utilizing this technology on daily basis. That's why having an incredible QR code reader and creator in your smartphone can be very beneficial for you. You can find plenty of different applications on the internet. We highly recommend you to go with QR Code Reader Creator. It's a versatile app that helps you to perform all QR code-related jobs easily and proficiently. Above all, you can download it free of cost from Apple App Store. Enjoy!