Can you imagine the world without images? Today, the internet is full of images of all kinds. People share billions of images on different social media sites like Instagram, Facebook, etc. They utilize images for different purposes because they are the most effective way to convey your ideas. For example, students use images to make their presentations more impressive.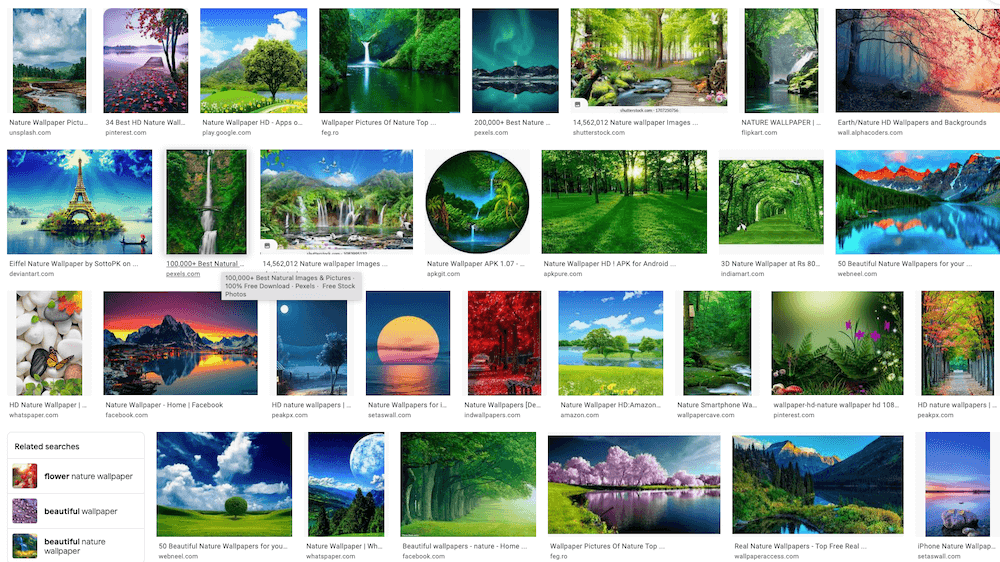 You are here because you also need images for your own reasons. But the question is what is the easiest way to download high-quality images?
The most common way to download an image is that right-click on the desired image. Click on the Save Image. You will get your image. However, this method is effective for those who want to download just a few images. Besides, images lost their quality when downloaded in this way.
For getting high-quality images in bulk, Image Downloaders step in to help you. In this guide, we are going to introduce you to the best image downloader for the web, its features, pros and cons, and more. Let's get started…
Introduction of ImageGet – Best Image Downloader for Web
ImageGet is one of the most popular image downloaders developed by MXCode for the web. It helps you to download all types of images from the internet without losing their quality. All you need to enter is the URL of a site from where you want to download images in the embedded browser, it will download all images automatically. It supports many platforms like Instagram, Google Image, and other photo-sharing sites.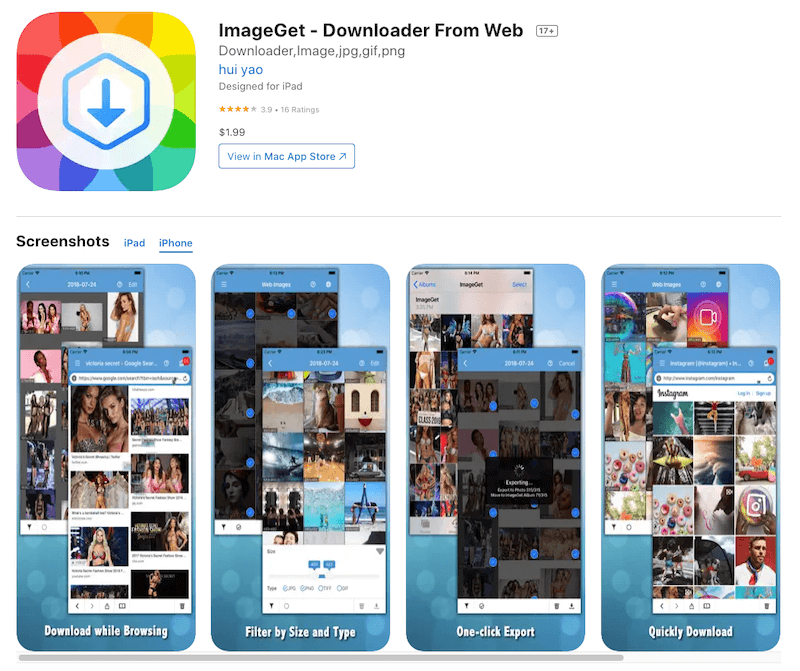 In addition to this, you can apply different filters to choose the appropriate image. For instance, if you want a JPG image, the app will show you all images in JPG format when you apply an image type filter. Other popular image types include JPG, GIF, PNG, BMP, and TIFF.
The app comes with an incredible embedded browser that helps you to find your desired images. It supports vertical and horizontal screen orientation for the iPad. This incredible tool properly manages downloaded images into your photo library.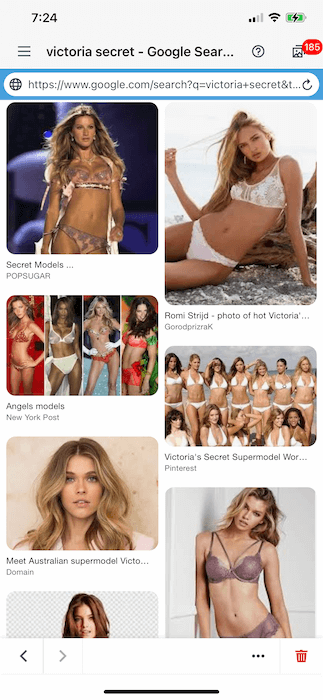 Different Features of ImageGet
Below are some remarkable features of this splendid tool:
Download Images: You can download images from all technical forums, photography forums, news pages, etc. All you need to enter is the URL of the site, it will grab all images for you in no time.
Download While Browsing: After starting downloading, you can still use its browser to explore more images. Simply, you don't need to halt your activity when the app is busy downloading your images in the background.
Image Filter: If you want a specific type or size of images, you can find them by applying different filters. The app supports all major image formats like JJPG, PNG, GIF, etc.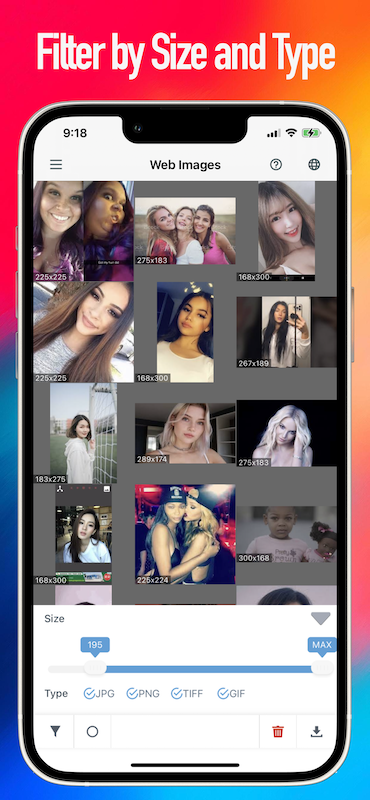 iPad Support: The app is available for iPhones and iPad. You can use the app both vertically or horizontally for a better browsing experience.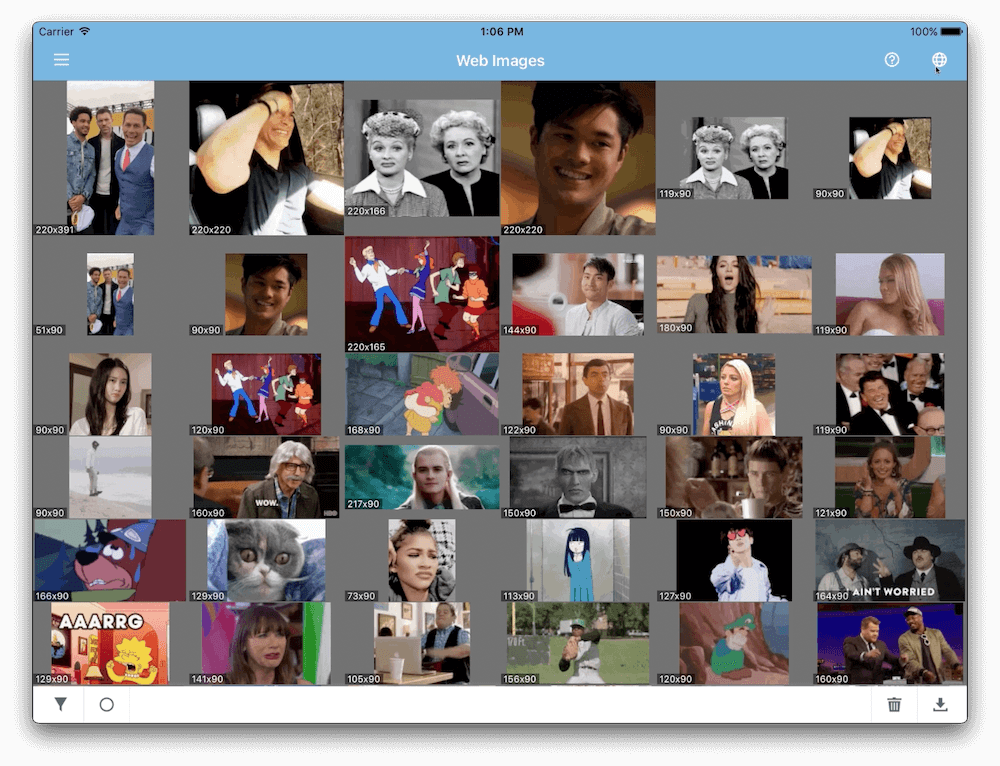 Image Management: You can search for your desired image and quickly export your image to Photo Library. You can easily assign images to contact. It allows you to directly print your favorite image. Above all, you can download multiple images in bulk.
Bookmark URL: This tool helps you to bookmark a URL for a better user experience. You no longer need to remember URLs for later use by bookmarking them.
How to Get Started With ImageGet?
ImageGet is an extremely easy-to-use app that allows you to download all types of images within a few clicks. Before we move ahead, let's first talk about some device requirements to use this app.
Step 1: Device Requirements for ImageGet
This app is available only for iPhone or iOS users. An iPhone, iPad, or iPod touch with iOS 9.0 or later can only run this device. Further, it is compatible with macOS 11.0 or later.
The application size is 14.8 MB. Therefore, it's better to have at least 50 MB of free storage for its installation. If your device fulfills the aforementioned requirements, you can easily get started with it by following the steps below: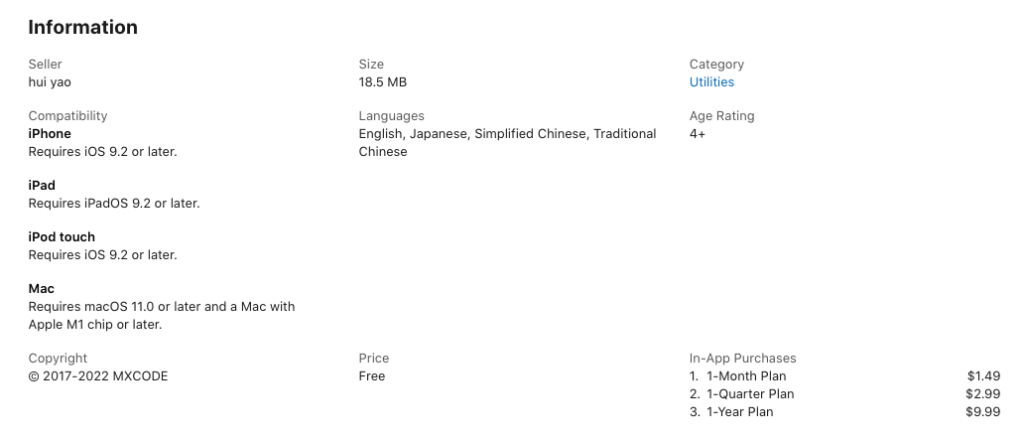 Step 2: Download and Install Image Downloader
The installation process is simple and takes almost 2 minutes to complete. Follow the steps below to install the app:
Type mxcode.com in the search bar in your favorite browser.
Under the Product menu, click on the ImageGet – Image Downloader.
The system will navigate you to the apple store where you can download the app.
Or, you can simply search for ImageGet – Downloader From Web on Apple App Store to download this app.
The app will be installed automatically once downloading is completed.
Step 3: Run the App
Once installation is completed, run the app and accept the terms and conditions. Plus, grant the permission to access storage to store downloaded images.
Note: Its free versions show some ads. For a better user experience, purchase its subscription plan. Its premium version costs only $1.99. Afterward, you can download unlimited images from different sites.
Step 4: Start Downloading Images
The app comes with an embedded browser where you can search for any type of image. Follow the steps below to download images:
Open the app.
In the search bar, type a URL of any site like tenor.com
It will grab all images on the site.
Tap for a second to select an image you want to download. Similarly, at the bottom of the screen, you will see a select-all icon. Tap on that if you want to select all images. When you select an image, you will see different filters at the bottom of the screen that includes image size and image type. You can find an image with its maximum size for original resolution by applying a size filter. Similarly, you can filter an image depending on its extension.
At the bottom right of the screen, you will find a download icon. Click on that to download all images.
Click on the drawer icon and tap on local files.
You will see all the downloaded files there.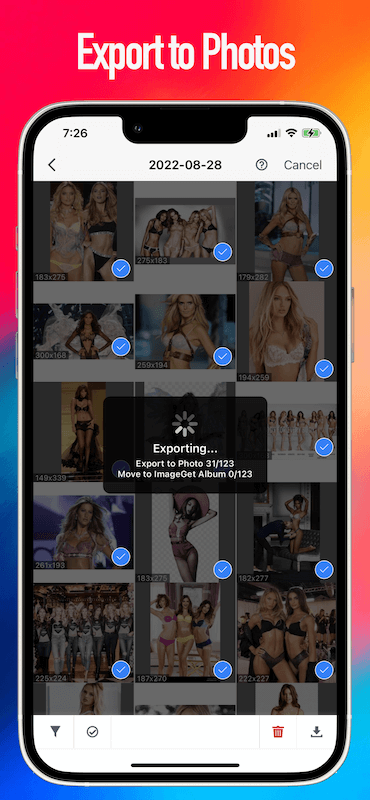 Pros and Cons of the ImageGet – Downloader From Web
Like other products, ImageGet also comes with some upsides and downsides as well. Below are some advantages and disadvantages of the tool:
Pros
You can download images from the entire webpage with a single click.
It allows browsing when images are downing in the background.
You can find your required image by applying different filters.
Supports vertical and horizontal screen orientation for a better user experience.
It comes with an embedded browser that allows you to browse images within this robust app.
Offers full-screen scaling and powerful picture browsing.
The user interface is very simple and intuitive.
It's the cheapest image downloader available on the internet.
Cons
The biggest disadvantage of this tool is that it's not available for Android, Windows, and many other platforms.
It supports only a few languages like English, Japanese, and Chinese.
What Makes ImageGet Stands Out Among All Image Downloaders?
Below are some important factors that make this incredible stands out among all image downloader:
Performance: The performance of the app is phenomenal. It won't take more than 2 minutes for proper setup. It allows you to download images in bulk with a single click.
Feature set: It comes with all necessary features that an image downloader should contain. You can download, delete, import, export, and filter all types of images using this app. You won't find any other app for iPhone users that comes with such a comprehensive set of features.
Ease of Use: ImageGet comes with a user-friendly layout. You don't need any technical skills to use this app. Features like picture browsing, full-screen scaling, and horizontal and vertical screen are a great addition to this app for ease of use.
Price: You can utilize premium quality features for just in $1.99. You will hardly find any app with such a feature set at the lowest cost.
Customer Support: MXCode teams treat their customers on priority bases. They will immediately respond and resolve your query in no time. You can contact them for getting any type of help regarding purchasing, downloading, etc.
These are some of the best-selling factors of ImageGet – Downloader From Web. That's why more than 120K people are using this incredible app. Above all, 4.5 stars ratings show its quality.
Wrapping Up
Images create amazing visual interest in your content, no matter what you do. That's why billions of new images are produced every day. You can find any type of image on the internet. However, if you need bulk images, it becomes very irritating for you to download all images one by one.
In this situation, you need to have a robust image downloader that helps you to download all images in one go. If you are looking for a bulk image downloader, we highly recommend you go with ImageGet – Downloader From Web. It is a spectacular tool that makes your life easy by grabbing all images at once.
This tool is a complete image exploring app that comes with an embedded browser. You can perform different activities like searching, filtering, and downloading with this app. Don't waste your time looking here and there. Get this app and start downloading high-quality images!