In Pokemon Go, players have to walk to collect some unique Pokemon. Some tasks like hatching eggs, raid hunting, grinding candy, and shiny hunting need a serious amount of walking. However, some people don't have enough energy or time to walk to catch them. Are you one of them? If so, this article is for you.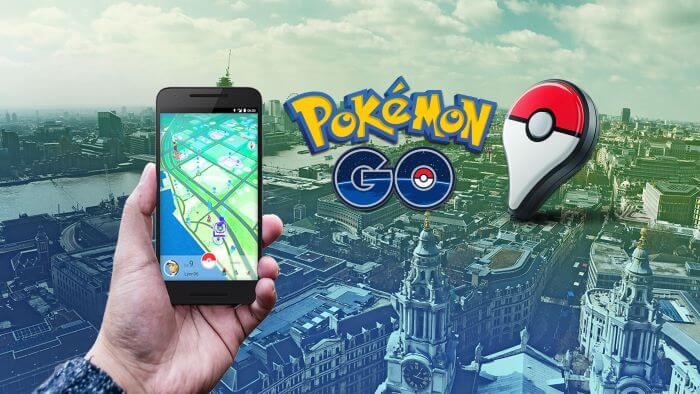 How to play Pokemon Go without walking physically? The Pokemon Go joystick helps you to navigate around using the joystick in any desired direction without taking a single step physically. The joystick makes all the tasks much easier that require a serious amount of walking to catch unique Pokemon, for more tips.
How to use the Pokemon Go joystick on Android and iOS without walking a single step physically? In this guide, we will cover different ways to use Pokemon Go Joystick. Let's get started…
Why Do Many Players Want to Use Pokemon Go Joystick?
In the beginning, most players find it a pleasures to walk around in the neighborhood to catch nearby Pokemons. That's why they visit supermarkets, eateries, and some other locations to find them. Soon this job becomes very exhausted for most players and they want to hunt unique Pokemons that they can't find nearby.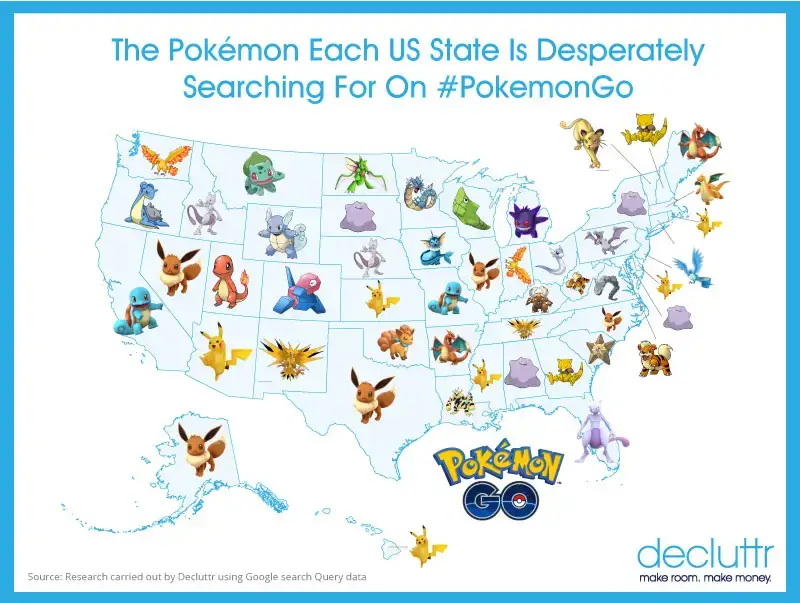 Visiting new places and catching one of the rarest Pokemons is the most exciting job. Unfortunately, it's extremely difficult to go to new places physically all the time for many people. If you don't frequently navigate new places, you may fail to find some most powerful Pokemons.
In this situation, Pokemon Go Joystick comes in to assist you. It helps you to change your location virtually without leaving your original location. You can show your presence wherever you want using this tool with just a buttons push.
Risks That Come With Pokemon Joystick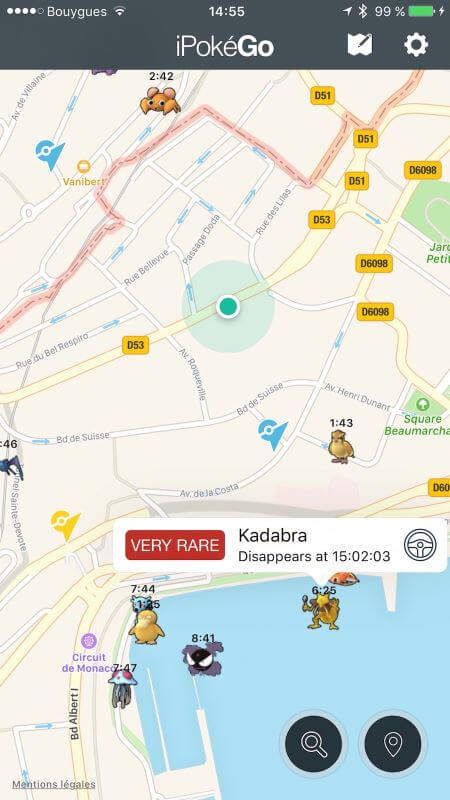 Using third-party apps that manipulate the location can be risky for the players. That's why you should be very careful when using Joystick to avoid penalties.
For instance, when Niantic detects that you are using a third-party app like Joystick Go to manipulate the activity of the game, the penalty will be 7 days ban for the first time. Meantime, you can play the game but you won't be able to catch a rare Pokemon until the duration ends.
Things get worse in the second warning because you will be unable to play the game for 30 days. It is a temporary ban for only one month in which you can't perform any activity. This stage is an indicator of a permanent ban if you again use any third-party tool to manipulate the app's activity.
The last strike leads to a permanent account being blocked. At this stage, you won't be able to get your account back forever. So you will have to either leave the game or create another account to play again.
Ways of Using the Pokemon Go Joystick
After reading the risks of using Pokemon Joystick, you may be afraid of using it. Right? If so, you don't need to worry at all because you can still use it without being tracked. Therefore, read the article ahead carefully…
First of all, you need to download the Pokemon Go Joystick app on your iOS or Android device. Be very careful when using this app to avoid a ban or possible virus threat to your device. The process of using the Joystick isn't rocket science. All you need to follow the steps carefully…
1. Pokemon Joystick for iOS Devices
Changing your real-time location without leaving your actual location is almost impossible. For this purpose, you may need to jailbreak your device. However, jailbreaking isn't a safer method because it can make your device vulnerable to many potential threats.
The safest method to spoof your location is to use a third-party app like FakeLoc location changer app. This app helps you to set any location you want anywhere in the world. You can simulate your movement from one location to the next using the app which is very helpful to play Pokemon Go. You may also be interested in the best 5 Pokemon Go spoof apps.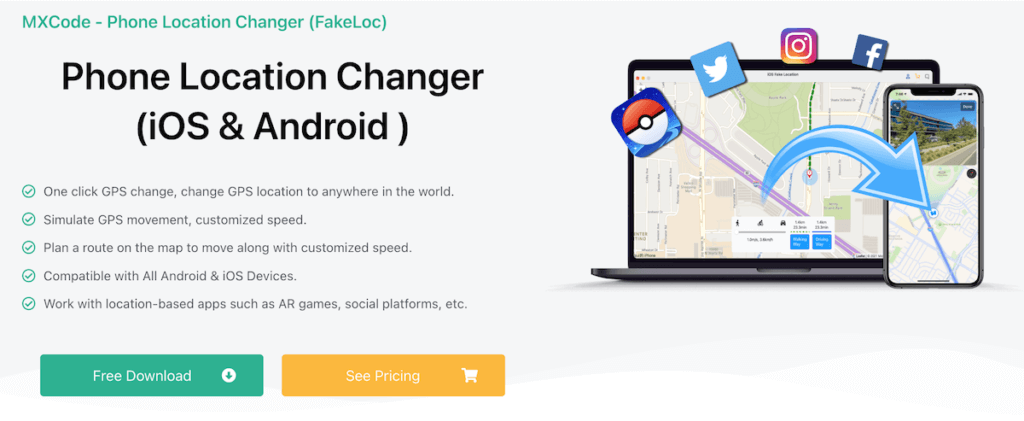 After changing your location with FakeLoc, you can utilize all features of Joystick in your chosen location. Follow the steps below to spoof GPS movement with Joystick or Keyboard:
Connect your device with the internet.
Download and install the Pokemon Go Joystick app on the device.
Visit mxcode.com to download FakeLoc app on your computer. The app's price is reasonable and offers a 15-day money-back guarantee.
Install it on your computer. Then connect any iOS devices to the computer and open it. You don't need any technical skills to use the app.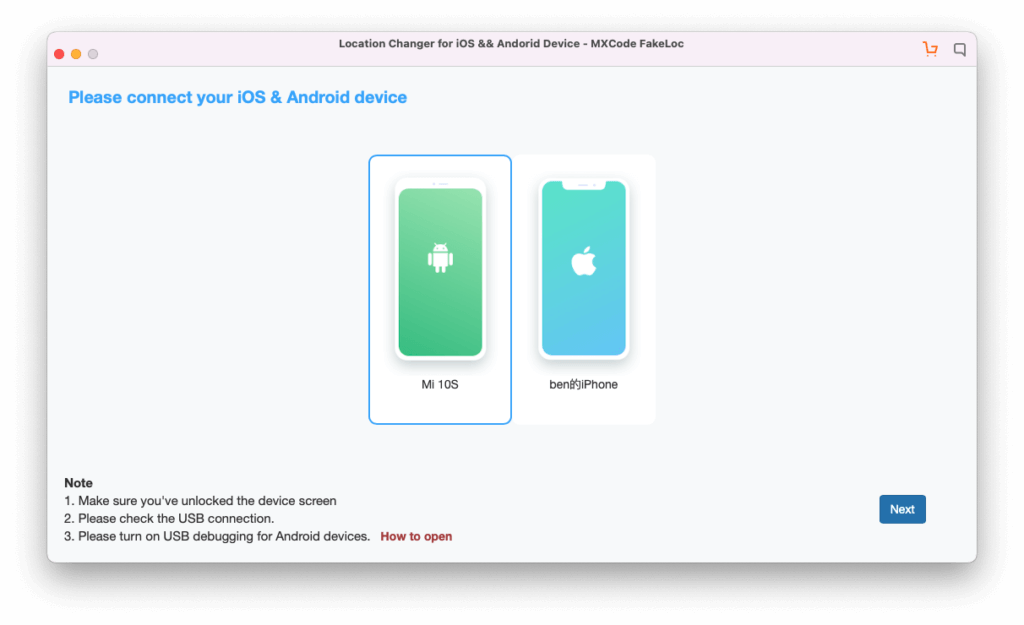 After successful installation, you will see a world map where you can set any of your desired locations.
In the search bar, type any location that you want to set. Plus, you can also enter the exact coordinates to set your location. Another way is to tap on the map to set your fake location.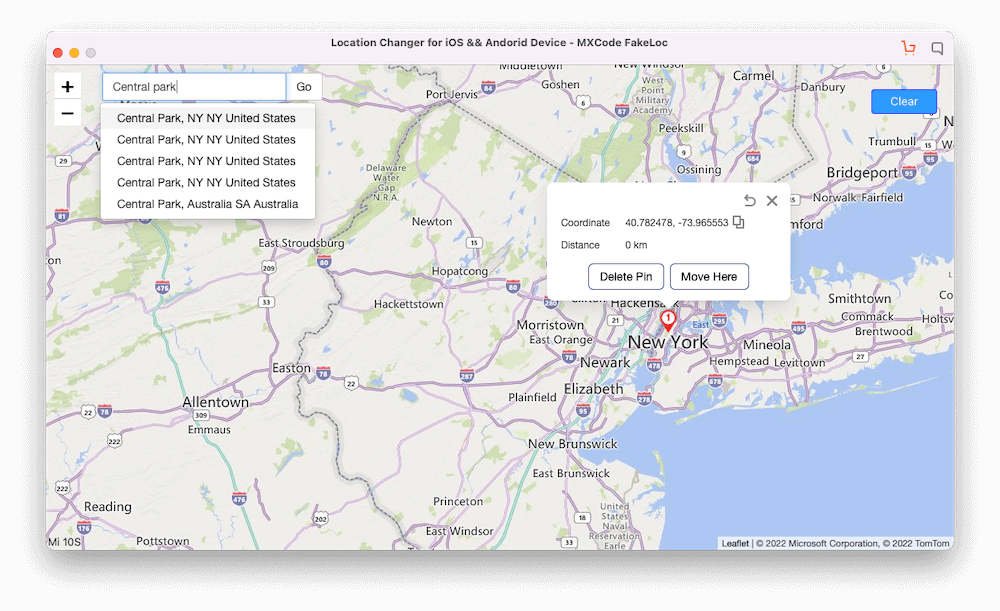 Now, add a joystick function to facilitate GPS direction control using the app. You can simulate your location from one point to the next using this app.
The app allows both automatic and manual GPS movement. You can use the joystick to move left or right to the position where you want to collect Pokemon.
Suppose Pokemon is at the position say X. Open FakeLoc and move to the X position using joystick without leaving your current location. When you open the Pokemon Go app it will show your location at X position. So you can easily change and collect rare locations without being tracked.
2. Pokemon Go Joystick with TweakBox
TweakBox is a third-party app store that allows you to download tweaked versions of many apps. You can find a modified version of the Pokemon Go game that comes with a fake location and GPS joystick. You can use the joystick to move around within a few seconds without actually changing your location physically.
Further, this app gives realistic GPS values due to its advanced algorithms. You can easily download it from the default Apple browser within a few clicks. The installation process of this app is very easy.
Tweaked Version of Pokemon Go Joystick
Follow the steps below to get Pokemon Go Joystick iOS free:
First of all, visit the official website of TweakBox and download the app by clicking on "Install Now". Click on Allow when prompted.
After the download is complete, click on Profile Downloaded in the Settings option. Then, click on Install to start the installation of the app. Make it done once the installation is completed.
Take your iPhone and launch the app. Search the tweaked version of Pokemon Go i.e. ispoofer for POGO and start the installation.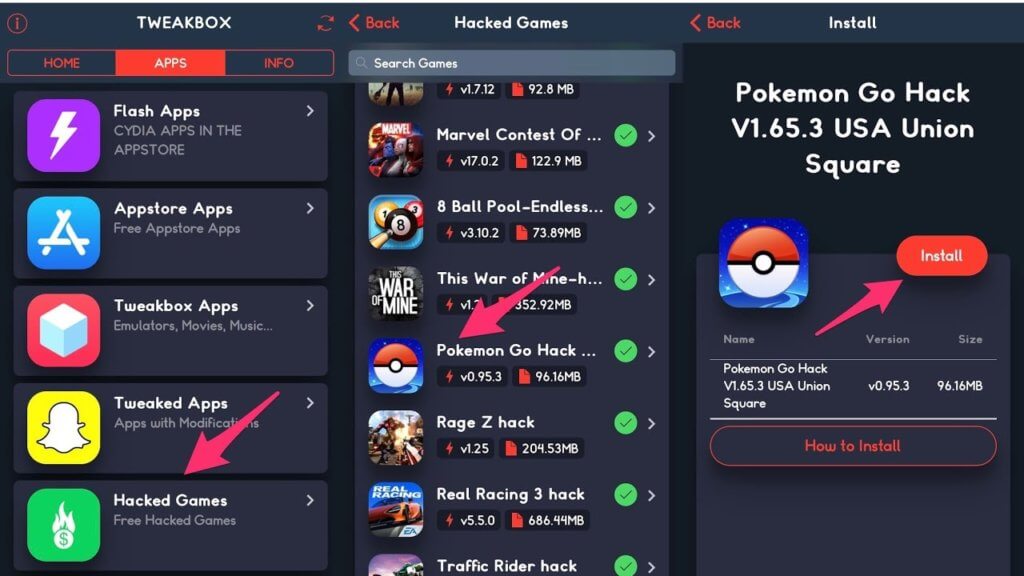 Once installation finishes, you will see a Pokemon Go icon on your home screen. Tap on the icon to enjoy Pokemon Go with GPS Joystick!
3. Pokemon Go Joystick with Tutu App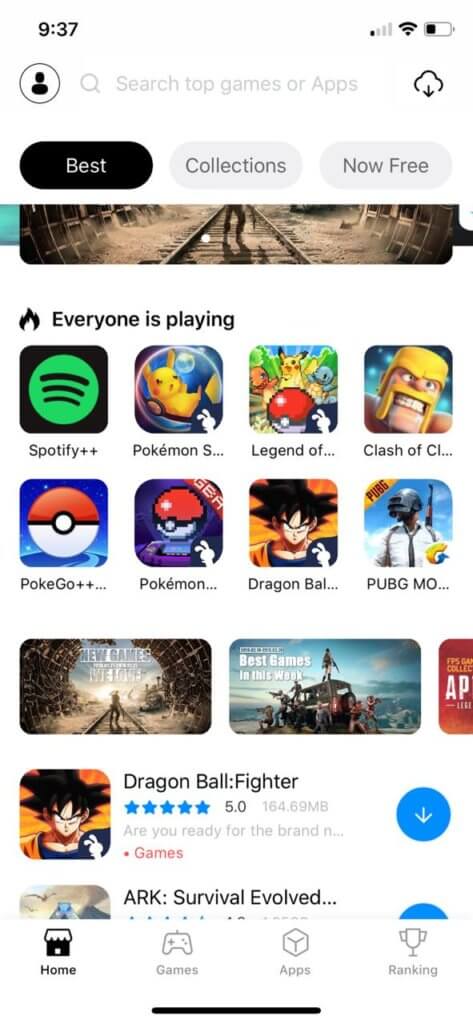 Tutu app is another most popular app store that offers a wide variety of tweaked versions of popular games. So you can download and play a tweaked version of Pokemon Go Joystick after downloading it from the Tutu app store.
Tutu – free Pokemon Go Joystick comes with an intuitive user interface and smooth features for a better user experience. Follow the steps below to use the joystick to play Pokemon:
Visit the official website of Tutu in the Safari Browser on your iOS device. Download and install the app by clicking on Install Now.
After successful installation of the Tutu app, you will see the app icon on your home screen.
Launch the app store and search for Pokemon Go++. This tweaked game comes with a joystick and fake location options by default.
Launch the game and start playing!
4. Hack Pokemon Go with AppValley
If you are an iPhone user, you may be already familiar with AppValley. It is another app store where you can download a fake GPS joystick apk for Pokemon Go. As you already know that the modified version of this app comes with a joystick and fake location by default. Therefore, all you need is to just download and install this game to utilize these features.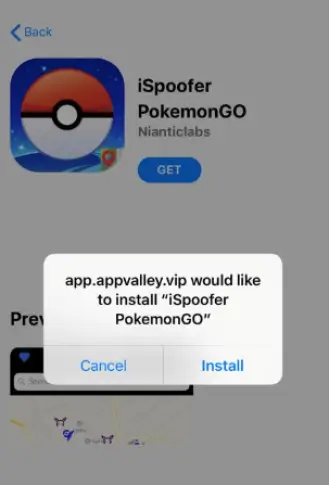 The installation process is almost similar to the above two methods. Download the modified version of the app from AppValley and install it. Then, run the app and search for Pokemon Spoofer i.e. ispoofer for POGO. Tap on "GET" and start the installation. After successful installation, open the app and enjoy it!
| | | | | |
| --- | --- | --- | --- | --- |
| | FakeLoc | TweakBox | Tutu app | AppValley |
| Ratings | ⭐️⭐️⭐️⭐️⭐️ | ⭐️⭐️⭐️ | ⭐️⭐️⭐️ | ⭐️⭐️⭐️ |
| Mock Location | ✓ | ✓ | ✓ | ✓ |
| Simulate navigation | ✓ | ✕ | ✕ | ✕ |
| Support Devices | iOS & Android | iOS | iOS | iOS |
| Risk for using | No | High | High | High |
| Latest iOS Version | ✓ | ✕ | ✕ | ✕ |
| Easy to Use | ✓ | ✕ | ✕ | ✕ |
| No jailbreak required | ✓ | ✓ | ✓ | ✓ |
| Scope of use | Social apps, Map apps, Game apps | Pokemon go only | Pokemon go only | Pokemon go only |
Wrapping Up
All the above-mentioned ways are 100% working. Therefore, you can go with any of the above to utilize Joystick to play the game without leaving your current location. However, you should be very careful when using these methods. If the system detects any doubtful move, you will be penalized.
To avoid any inconvenience, don't change your locations swiftly. Plus, don't move too fast to collect Pokemons. Avoid dual or multi-login, especially when using the Pokemon Go Joystick. All these activities make you suspicious in the sight of the system and the chances of being blocked from the games are increased. Therefore, you must be very careful when using a joystick. Any of your suspicious moves can lead you to be blocked from the game.