Who doesn't know the significance of data security? Because nothing is more important than data safety in this era. You have plenty of data-driven applications on your smartphones ranging from social media apps to digital banking apps. These gadgets carry your personal to financial secretes.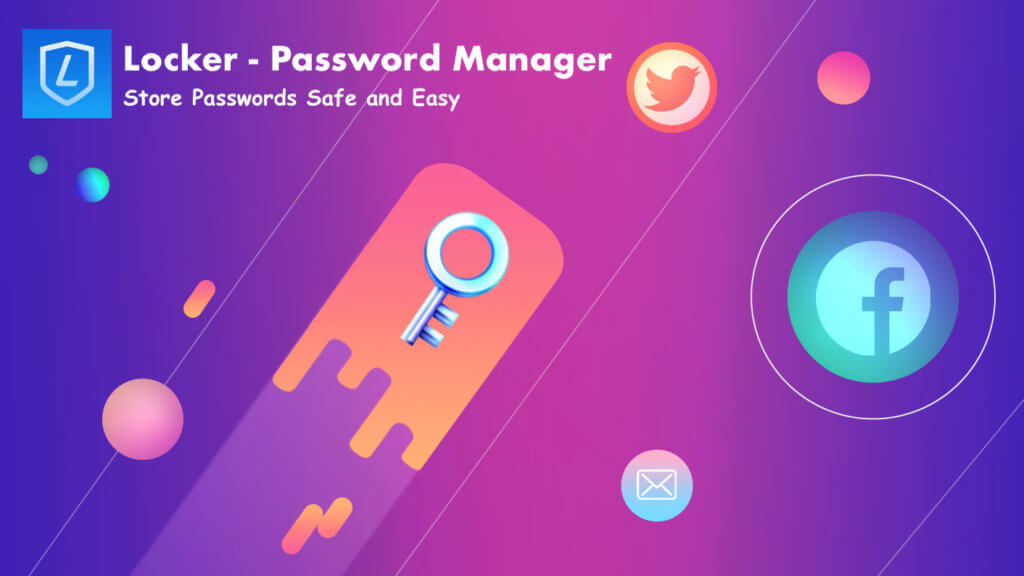 Sometimes, you have to share your mobile with someone else for some reason like showing some documents or making a phone call. In such situations, your data is continuously at risk. A cellphone with poor security can lead you to serious circumstances.
You must not take your data safety for granted. That's why all data-conscious people use different foolproof methods to protect their precious data. Therefore, it's crucial to use locker apps to save your sensitive data.
Remember, there is no use in using weak or the same passwords for multiple applications. You must use a strong and unique password for each app. However, this situation will make it extremely difficult for you to remember all your passwords.
You don't need to worry at all because there are plenty of apps available on the internet that helps you to manage all passwords easily and effectively. In this detailed guide, we will introduce you to a robust password manager, its pros and cons, and more. Let's get started…
What is Locker Pro – Password Manager?
Locker Pro is an extremely powerful app that helps you to manage your passwords effectively. The app ensures the safety of your data by using high-strength encryption techniques. It offers multiple login methods including gesture password, fingerprint, and face recognition.
This incredible data manager allows you to choose desired colors or icons for each password or directory. Its powerful association features allow you to enter data very quickly. Above all, you can import or export your data to iCloud. Simply, it comes with all characteristics that a spectacular tool should contain. You won't find such incredible features at this lowest price in any other app.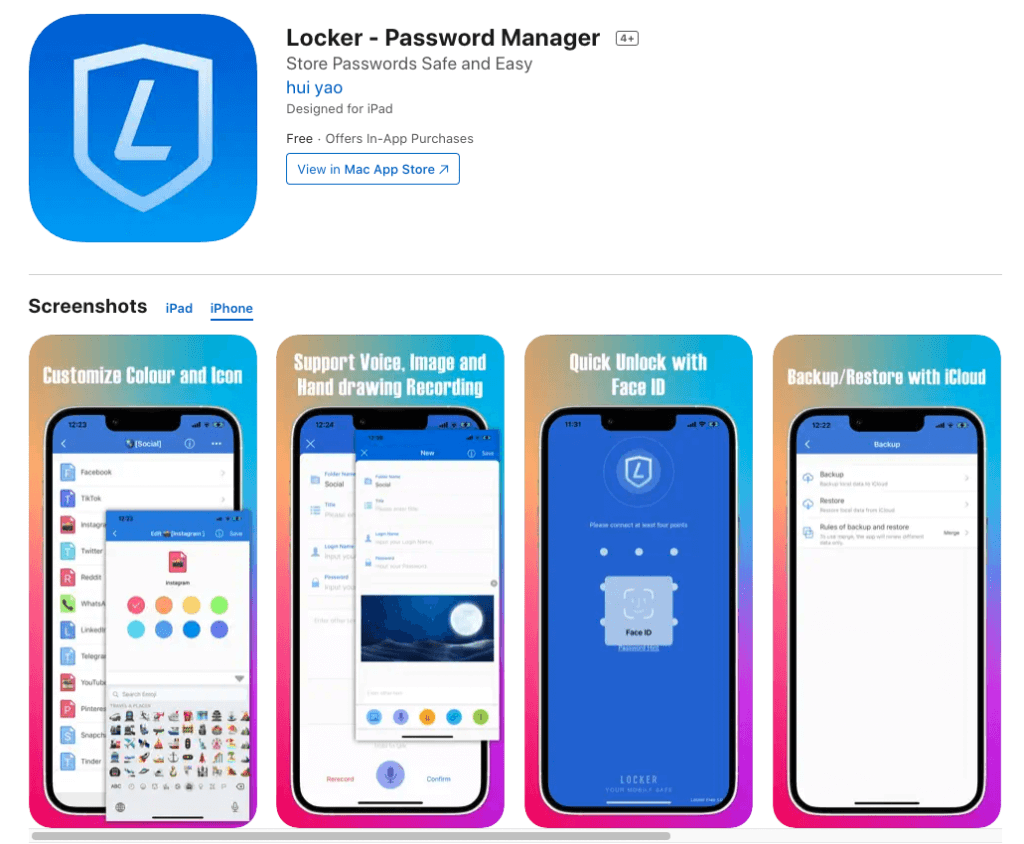 Different Features of Locker Pro
Below are some useful features of this incredible tool:
Import and Export Data: The application allows you to import and export your precious data. For this purpose, you need to create a list of initial passwords in a template file provided to you.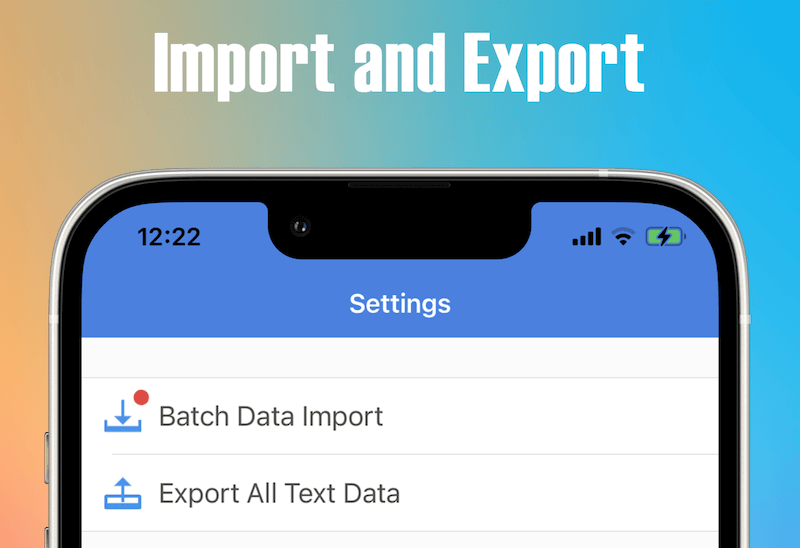 Multiple Login Methods: Locker supports different login methods including fingerprint, pattern lock, and face recognition options. It helps you to log in to your account conveniently.
Customize Color and Icon: This app allows you to choose your favorite color or icon for each password or directory.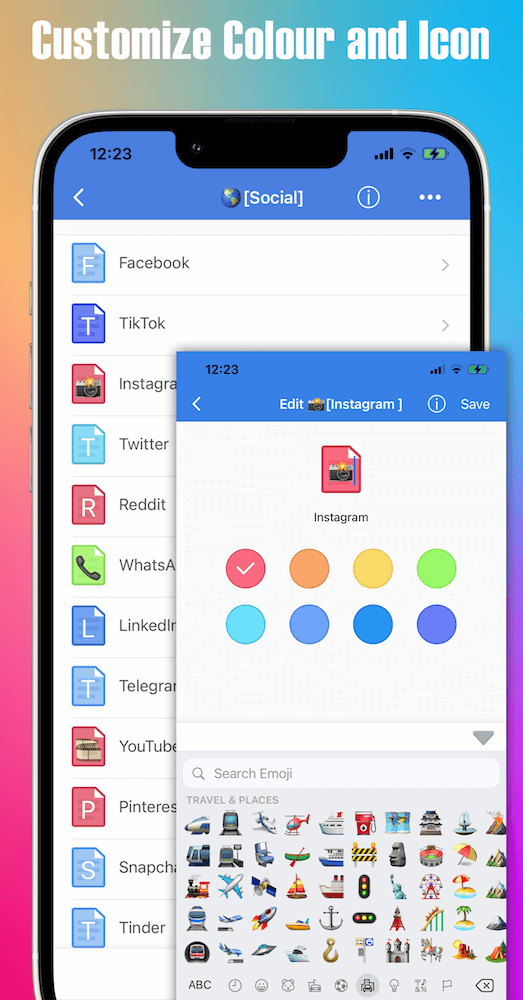 High-Strength Encryption: It comes with high-strength encryption to protect your precious data. Even developers are totally blank about the passwords you are using for the apps and directories.
Voice, Hand Drawing, and Photo: This incredible tool supports free photos and audio recordings. This amazing feature increases the performance of this incredible app.
iCloud Backup: You must have a secure backup of your data for its protection. Locker Pro helps you to back up your data on iCloud and restore that again on your new phone within a few clicks.
How to Get Started With Locker Pro?
The application is extremely easy to use. People with no technical skills can also manage their passwords easily using this spectacular app. Follow the steps below to get started with this app:
Step 1: Download and Install Locker Pro
The first and foremost step is to download and install this tool on your iPhone. Visit the official site and click on the Free Download button to get a download link. Similarly, you can download this app directly from the Apple App Store by searching "Locker Pro – Password Manager".
You will have to pay only $1.99 to purchase this app. The total size of the file is 26.7 MB, so the entire installation process will take only 4 – 5 minutes. This app is available for iPhones with iOS 8.0 or later. Its requirements are the same for other iOS devices like the iPad and iPod touch.
Step 2: Get Started with the App
Once the download is completed, Launch the app. You can save the login information of all the apps installed on your device using this app. Simply, tap on the app > set login name and password > Save.
Remember, Locker Pro – Password Manager supports different types of passwords. You can draw pattern lock, number lock, gesture lock, and face recognition lock. You can go with any of them as you feel comfortable.
Step 3: Maintain the Backup
You can back up the entire login information on iCloud storage. You can export this data on a new device easily within a few clicks.
For logging out, go to Setting and tap on the Logout option.
Pros and Cons of Locker Pro
Like other password managing apps, this incredible tool to has some upsides and downsides as follows:
Pros
It is the most affordable app available on the internet.
Offers the best user experience.
Extremely easy-to-use app.
The app is very easy to set up.
This tool comes with the most powerful encryption to secure your data.
It maintains the backup of your data on iCloud.
This app has powerful association features that make data entry extremely easy.
Multiple login options are available for your ease.
Customize your record by choosing your favorite colors and icons.
Customer support is matchless.
4.8 ratings on Apple App Store.
Cons
The app is only available for iOS users.
The password recovery option isn't clear.
What to Consider in Good Password Manager?
Today the internet is full of malicious software. Many apps have been found spying on users' activities. Others can corrupt your important documents by injecting harmful viruses. You have to be very careful in this online world to protect your data.
Here it's a matter of passwords that need extra protection. If you are looking for the best and the safest password manager, below are some important things to consider:
1. Safety and Privacy
Privacy is the most important thing to consider. Therefore, you must check what encryption method an app is using. Similarly, read the privacy policy carefully to know what permission an app wants to work properly.
Locker Pro comes with a powerful encryption method to manage and protect your password. Even developers don't know your password history. Further, it doesn't monitor any type of your activities. Therefore, Locker Pro is the best option for privacy-conscious people.
2. Performance
It's a waste of time and money to purchase a tool that doesn't perform according to your expectation. If a tool is not doing what is expecting it to do, would you purchase such a tool? Not at all.
Locker Pro comes with many stunning features and each performs extremely well. It works smoothly from installation to backing up your data. Above all, 4.8 stars rating clearly indicates its performance.
3. User Experience
Do you like an app that causes a headache when using it? No one likes such apps. For a positive user experience, an application must have a simple and intuitive layout. Applications with a complex layout are difficult to use.
If we talk about the user experience of any password managing app, Locker Pro stands out among all. It comes with various features that are well-managed and self-explanatory. The Color combination of different elements in the app is fabulous. You won't feel boring when using this stunning app.
4. Customer Support
How'd you feel if you were stuck in a problem and contacted customer support for a solution and got no response for several hours? It will be a very painful experience for you. Because I have been through such situations many times.
Locker pro comes with excellent customer support. You will get a response within a while after your contact. As a result, you will get your problem solved in no time.
5. Price
Price is another important factor to consider when purchasing any product. Expensive things don't win the race always. For example, Locker Pro is a cheap but most powerful tool to manage your passwords. And, this tool is available at an affordable price.
Wrapping Up
As you know that most sites ask you to create an account in order to utilize their services. Besides, they compel you to create a strong password to secure your account. That's why it becomes extremely difficult to remember all passwords at the same time. To avoid any difficulty, most people use the same username and password for various websites.
If someone manages to steal your username and password somehow, your all sites are at huge risk. Then, how to get rid of such problems? In such a situation, you need Locker Pro to manage your passwords effectively. Create a unique and extremely strong password for all sites, it will manage everything on your behalf. Remembering your passwords is no more your headache. Therefore, we can say Locker is another name for peace of mind. Get it installed on your iPhone and start managing your passwords easily and safely.